DY Nutrition Muscle Force Pre-Workout
The epitome of convenience, the embodiment of potency, our DY Nutrition Muscle Force pre-workout shot is meticulously formulated to bring you the ingredients needed for a focused and ultra-effective workout/session.
Depending on how you take Muscle Force, it can either kick start you ready for a gritty weights session, or the moderate caffeine and high Beta-alanine content can deliver the energy promoting, fatigue delaying qualities needed for a focused and productive session whether it be lifting weights, doing a HIT or HIIT session, a Met-con or even a spin class or body combat session.
The deliberate inclusion of Beta-alanine means you can train harder for longer, it enhances focus when coupled with caffeine, and it will suppress any mid-session 'energy crash' thanks to the moderate caffeine content and optimal Beta-alanine dose.
Couple this with the inclusion of B vitamins for cellular energy production, as well as Taurine for deeper focus and reduced muscle fatigue…and you have a 'go to' pre-workout that can sit in the glove box of your car, gym bag or pocket for when you need it most.
Dosing
Consume 1 serving (60ml shot) approximately 15-20 minutes before exercise.
Description
Description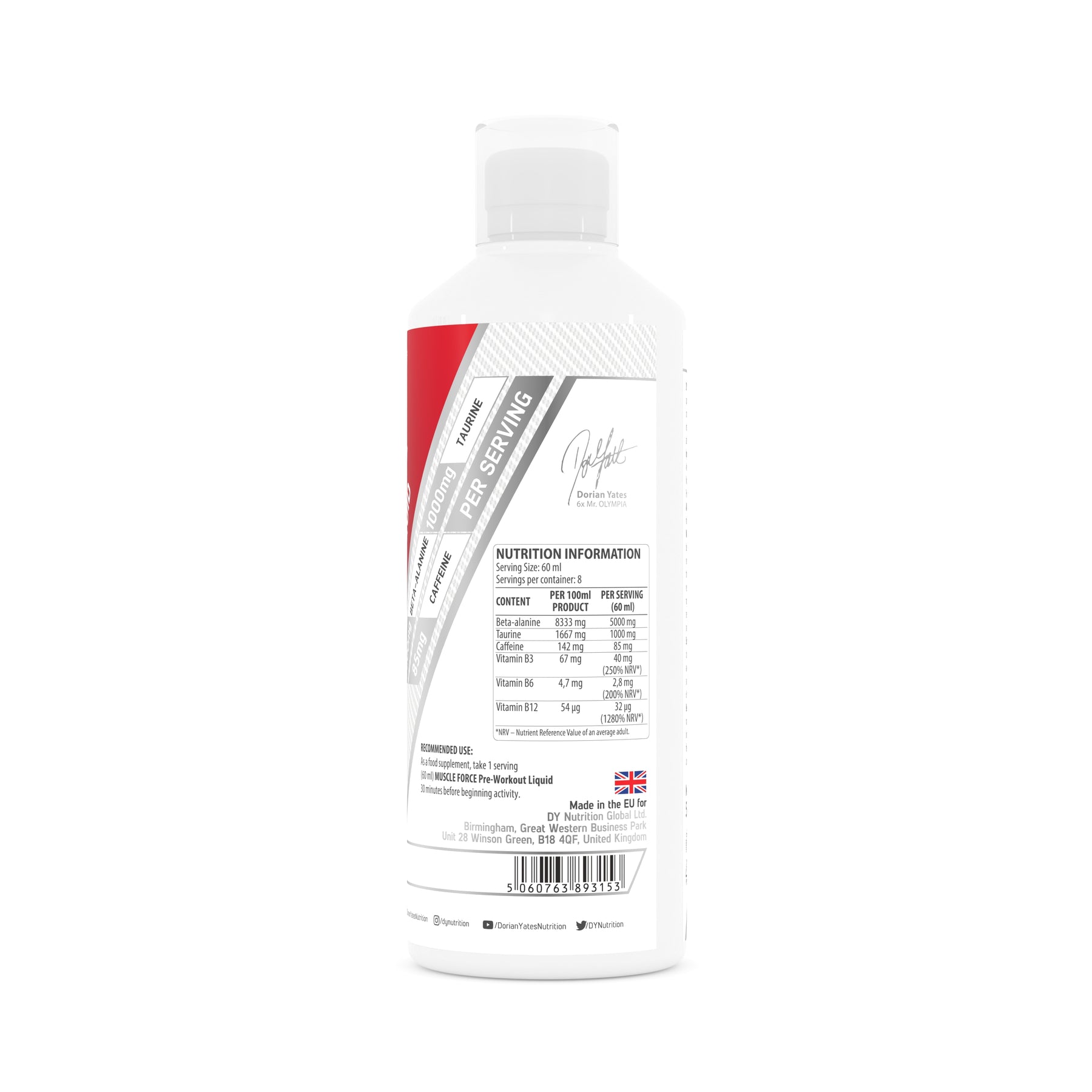 Additional information
Additional information
| | |
| --- | --- |
| Flavours | Orange, Pineapple |
Reviews (0)
Quick Comparison
Settings
DY Nutrition Muscle Force Pre-Workout

remove

Mutant Whey Dual Chamber 1.8 kg

remove

JNX Sports The Omen 100Caps

remove

Nutrend - Creaport 600g - Orange Flavor

remove

POWER SYSTEM KNEE WRAPS 3700

remove

IHS BCAA 2:1:1 330CAPS

remove

Name
DY Nutrition Muscle Force Pre-Workout

remove

Mutant Whey Dual Chamber 1.8 kg

remove

JNX Sports The Omen 100Caps

remove

Nutrend - Creaport 600g - Orange Flavor

remove

POWER SYSTEM KNEE WRAPS 3700

remove

IHS BCAA 2:1:1 330CAPS

remove

Image
SKU
17879-1-1-1-1-1
13431-1
15460
15794-1
12937
16801
Rating
Price
Stock

10 in stock

Out of stock

Out of stock

Out of stock

Out of stock

Availability
10 in stock
Out of stock
Out of stock
Out of stock
Out of stock
Add to cart
Description
The epitome of convenience, the embodiment of potency, our DY Nutrition Muscle Force pre-workout shot is meticulously formulated to bring you the ingredients needed for a focused and ultra-effective workout/session. Depending on how you take Muscle Force, it can either kick start you ready for a gritty weights session, or the moderate caffeine and high Beta-alanine content can deliver the energy promoting, fatigue delaying qualities needed for a focused and productive session whether it be lifting weights, doing a HIT or HIIT session, a Met-con or even a spin class or body combat session. The deliberate inclusion of Beta-alanine means you can train harder for longer, it enhances focus when coupled with caffeine, and it will suppress any mid-session 'energy crash' thanks to the moderate caffeine content and optimal Beta-alanine dose. Couple this with the inclusion of B vitamins for cellular energy production, as well as Taurine for deeper focus and reduced muscle fatigue…and you have a 'go to' pre-workout that can sit in the glove box of your car, gym bag or pocket for when you need it most. Dosing Consume 1 serving (60ml shot) approximately 15-20 minutes before exercise.

REAL PROTEIN FOR REAL MUSCLE

When you're training hard, you want your protein and supplements to work as hard as you do. Mutant Whey features 22 grams of 100% whey protein in each serving, plus 10.4 grams of natural EAAs and added digestive enzymes. Protein is essential for building and repairing muscle and other body tissues, and whey delivers a protein that is one of the best.

100% whey protein
22 grams of protein in each serving
Five grams of BCAAs
No amino spiking or aspartame
10.4 grams of naturally present EAAs
Digestive enzymes for added intestinal support
Informed-Choice Certified
Helps build and repair muscles
10lb container
Two delicious flavours

INFORMED-CHOICE CERTIFIED

Mutant takes extreme pride in its products, so you can rest assured that you won't find it in the formula if it's not listed on the label. All Mutant products that carry the Informed-Choice logo are tested for over 200 banned substances. Mutant Whey is manufactured in Mutant's state of the art facility to provide quality assurance throughout the entire process.

NEW AND IMPROVED TASTE

Mutant Whey features a new and improved formula that's even more decadent and more delicious than before. The texture and flavours are similar to a milkshake but are easy to make with only water. Add six to eight ounces of cold water and one serving of Mutant Whey to your shaker cup, shake for fifteen seconds, and enjoy! See the results you've been working for with Mutant Whey!
A JNX Sports Product

Fire Up Your Transformation With the Legendary Power of The Omen

300mg of caffeine per serving
Increases metabolic burn*
Extreme energy and mental focus*
All ingredients and quantities fully disclosed

Concentrated Thermogenic Detonator

Torch fat with extreme metabolic burn. A thermogenic blend of Caffeine Anhydrous, Green Coffee Bean Extract and fat transporting L-Carnitine forces your body into overdrive so you achieve your goals faster than ever before.*

Insane Energy and Mental Focus

Power through the toughest workouts and demanding schedules with Caffeine Anhydrous and L-Carnitine boosting your energy and mental focus. The Omen! keeps you focused and energized so you feel great all throughout the day.*

Extreme Appetite Suppression

The Omen! boasts an ingredient profile designed to exert a powerful appetite suppressing effect without bloating sugars, starches or carbohydrates. Help reduce hunger, control cravings, and prevent overeating.* The Omen! features:

Zero Sugar
Zero Carbs
Zero Fats
Zero Calories
Zero Artificial Colors
Zero Animal Testing

R18. You must be aged 18 or over to use JNX SPORTS® THE OMEN!®

Complete creatine formula
Multi source creatine for better performance
Strength, energy & recovery
No overloading

A first-rate creatine product containing three different forms of creatine supplemented with an optimal dose of carbohydrates. The instant mix is designed to improve regeneration effectively and supplement glycogen after demanding physical activity.

Πλήρης φόρμουλα κρεατίνης
Κρεατίνες πολλές ειδών για πιο ολοκληρωμένη ανάπτυξη
Δύναμη, ενέργεια και αποθεραπεία
Δεν χρειάζεται υπερφόρτωση

Το Creaport της Nutrend είναι μια φόρμουλα κρεατίνης, που περιέχει 5 διαφορετικούς τύπους της και είναι η ιδανική λύση για να στηρίξει και αυξήσει την απόδοσή σου καθώς και την μυϊκή σου δύναμη. Περιέχει την ιδανική ποσότητα υδατανθράκων ώστε να μην είσαι αναγκασμένος να συνδυάζεις μια οποιαδήποτε άλλη κρεατίνη με ξεχωριστό υδατάνθρακα. Προορίζεται για αθλητές που θέλουν να αυξήσουν την μυϊκή τους δύναμη και να βελτιώσουν τις αποδόσεις τους. Δοσολογία: Ανακατέψτε μια δόση 30 g με 150 ml νερού. Χρησιμοποιήστε το το μέγιστο μία φορά την ημέρα μετά την προπόνηση. Μην υπερβαίνετε τη συνιστώμενη δοσολογία.

POWER SYSTEM  Knee Wraps  200 cm are comfortable knee wraps that offers support and stability during

heavy lifts. They are equipped with secure Velcro as well as thumb loops for quick and easy fastening. They are made out of a high quality polyester and rubber blend and feature a width of 7.5 cm and length of  200
cm. Heavy-duty, reinforced stitching in the hook-and-loop closure. The stretch material also enables optimal custom tightening for firm, stable support throughout even the most intense training programs.

It is known that amino acids are responsible for regeneration and development since they are protein building blocks. There are 20 amino acids which may or may not be naturally produced by our organism. Exogenous amino acids are the ones which cannot be produced by the organism, so they have to be present in our diet. Three of them are most important: isoleucine, valine and leucine, called BCAA. They have a great impact on strengthening the muscles. The meaning of BCAA in Your diet is huge, especially if you do any physical activities on a regular basis. They are the only amino acids which are not degradable in the liver, unlike the rest, so they are directly introduced to the blood stream. This means that consumption of BCAA directly influences their concentration in plasma and muscle tissue. What is interesting is the fact that BCAA are used for energy during the effort, so they are additional fuel for intense workouts. BCAA 2:1:1 is the product of the best quality. You will find here necessary amino acids perfectly selected for Your organism in proportion 2:1:1. Such selected substances guarantee that Your muscles will get appropriate amount of required building block and the supplementation with BCAA may reduce a level of lactate after the resistance training and improve oxidation of muscles. Moreover, delivery of branch-chained amino acids may increase the level of growth hormone what will cause that not only Your training will be more efficient but Your muscles will be strengthened like never before. For technical reasons, some products are in capsules without the IHS logo. 5000MG BCAA IN EACH PORTION OUTSTANDING AVAILABILITY NO ADDITIONAL ADDITIVES 60 PORTIONS IN PACKAGING
Content

100 Capsules

Serving Size: 2 Capsules Servings Per Container: 50

Amount Per Serving

Amt

%DV

Acetyl L-Carnitine HCl

350 mg

†

Cocoa Bean (Theobroma cacao L.) Extract (std. to 20% Theobromine)

125 mg

†

Green Coffee Bean Extract (50% Chlorogenic Acids)

50 mg

†

Green Tea (Leaf) Extract (98% Polyphenols, 50% EGCG)

50 mg

†

Grains of Paradise Seed Extract (Aframomum melegueta) (std. to 12% 6-Paradol)

25 mg

†

* % Daily Value is based on a 2,000 calorie diet. Your daily values may be higher or lower based on your calorie needs. † Daily Value (DV) not established.

Ingredients

Microcrystalline Cellulose, Hypromellose (HPMC) Capsule, Vegetable Magnesium Stearate, Silicon Dioxide.

Allergen Warning

Produced on equipment that also processes peanuts, tree nuts, milk, egg, wheat, shellfish, fish, soy.

Directions

To assess your tolerance, refer to the table below. Once tolerance is determined, take one serving (2 capsules) with breakfast and one serving (2 capsules) with lunch. For best results, use for 60 days in combination with diet and exercise. Drink 8 to 10 glasses of water per day.

Warnings

THIS PRODUCT IS ONLY INTENDED TO BE CONSUMED BY HEALTHY ADULTS, 18 YEARS OF AGE OR OLDER. DO NOT TAKE WITHIN 6 HOURS OF BEDTIME. DO NOT EXCEED 4 CAPSULES IN A 24 HOUR PERIOD. USE ONLY AS DIRECTED. WARNING: Do not use if pregnant or nursing. Discontinue use and consult a medical doctor if you experience unusual symptoms. Consult a medical doctor before use if you have been treated for, diagnosed with or have a family history of any medical condition, or if you are using any prescription or over-the-counter drug(s). Consult a medical doctor before starting a diet or exercise program. This product contains caffeine. Caffeine-sensitive individuals may experience the following symptoms including (but not limited to) restlessness, nervousness, tremors, headache, anxiety, palpitations, increased heart rate or difficulty sleeping. Do not combine with other sources of caffeine or stimulants, including but not limited to, coffee, tea, soda or other dietary supplements or medications. Discontinue use 2 weeks prior to surgery. Do not use this product continuously for more than 8 weeks. Do not use if you have heart, sleep or anxiety disorders. Do not exceed recommended serving. Improper use of this product will not improve results and is not advised. Do not use if safety seal is broken or missing. Store in a cool, dry place. KEEP OUT OF REACH OF CHILDREN.

Sold in Pairs
Reinforced stitching
Firm, stable wrist support
Color: Black/Grey

Weight
Dimensions
N/A
N/A
N/A
N/A
N/A
N/A
Additional information

| | |
| --- | --- |
| Flavours | Orange, Pineapple |

| | |
| --- | --- |
| Flavours | Triple Chocolate & Fudge Brownie |

| | |
| --- | --- |
| Flavours | Blue Rasberry, fruit punch, green apple |

| | |
| --- | --- |
| Flavours | Blue Rasberry, Blueberry |